Regulatory Initiatives > Future Banking Bridging Programme
Events & Industry Initiatives >
Home >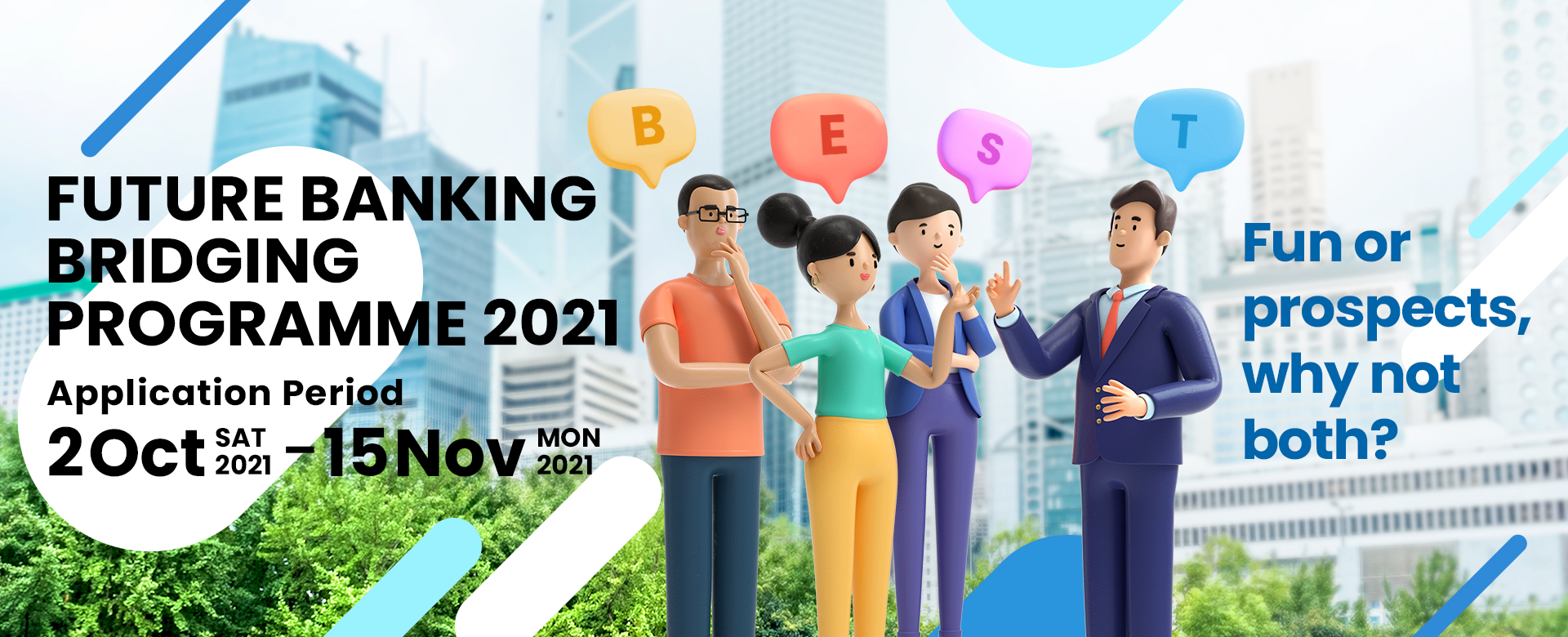 Why this Programme?
It's free of charge. Take advantage of our Programme, jointly provided by the Hong Kong Monetary Authority and The Hong Kong Institute of Bankers.
You will be taught by industry practitioners sharing their practical knowledge and skill sets, especially in areas highly sought after by the banking industry.
This is a new pathway to gain a quick yet in-depth look into the world of banking.
Industry insiders will give a rundown of the hottest topics in banking. Engage in interactive dialogue with bankers and possibly get a chance to visit a bank to experience a day in the life of a banker.
First-hand tips will be shared, ranging from the job search to the interview, to help you land a banking position successfully.
Limited places are available.

What is it all about?
Intensive and interactive banking courses in various forms, including classroom training, case studies, group discussions and presentations.
The B.E.S.T. banking programme on Banking knowledge, ESG, Soft skills and Technology.
Introduction to fundamental knowledge about financial markets, the banking system in Hong Kong, as well as banking services and operations. In-depth insights into the latest developments in the fastest growing areas of banking, including the newest technology, green finance and cross-border banking.
Interactive dialogue with bankers, who will share their banking experiences, tips on entering the industry, as well as career opportunities and prospects.
Real-life exposure to the daily operations of a bank through job shadowing. This opportunity will be open to the team that delivers the best performance in the Programme.

What will you get?
A knowledge kit at the start that is most welcomed by top bankers, and a certificate upon completion of the Programme.
Deepened understanding of the ins and outs of the banking industry and its prospects.
Practical knowledge and the latest developments in the hottest areas of banking.
Direct dialogue with bankers on banking experiences as well as career opportunities and prospects.
Valuable interactions and networking opportunities with industry practitioners and peers.
A unique chance to experience a day in the life of a banker.

How long will it last?
Two half-day sessions on modern and future banking, bankers' insightful sharing and a team project.
A third half-day session, in which members of the best performing team will get to shadow a banker on the job in real life.
Schedule:
Session
Time
Date
Day 1
9:00am – 1:00pm
27 November 2021
Day 2
9:00am – 1:15pm
4 December 2021
Day 3 *
9:00am – 12:00nn
9 December 2021
*For the best performing team

Who can apply?
Hong Kong residents who are full-time students of 11 universities in Hong Kong (of any discipline, level of study and year of study) at the time of enrolment
The 11 universities are (in alphabetical order):
- Chinese University of Hong Kong (The)
- City University of Hong Kong
- Education University of Hong Kong (The)
- Hang Seng University of Hong Kong (The)
- Hong Kong Baptist University
- Hong Kong Metropolitan University
- Hong Kong Polytechnic University (The)
- Hong Kong Shue Yan University
- Hong Kong University of Science and Technology (The)
- Lingnan University
- University of Hong Kong (The)

How to apply?
Obtain an application form by clicking on this link Application Form - Future Banking Bridging Programme . Submit the completed form with copies of the requested supporting documents to The HKIB by email to bridging@hkib.org
In your application, provide proof of your status as a full-time student.
Give brief responses to five questions in the application form to show your interest in the banking industry.

Application period
2 October 2021 to 15 November 2021. Late applications will not be considered.
Successful applicants will receive a notice from The HKIB at least five working days before the start of the Programme.
Contact Us
Email: bridging@hkib.org
Telephone: (852) 2153 7800
Last revision: 14 September 2021 at 5:00pm